Answer
Further increases in retinal ischemia trigger the production of vasoproliferative factors that stimulate new vessel formation. The extracellular matrix is broken down first by proteases, and new vessels arising mainly from the retinal venules penetrate the internal limiting membrane and form capillary networks between the inner surface of the retina and the posterior hyaloid face. (See the images below.)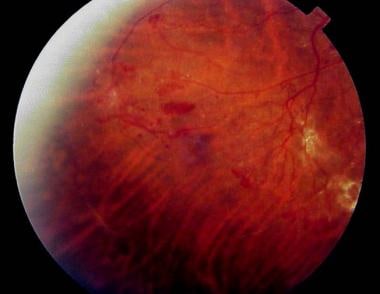 New vessel formation on the surface of the retina (neovascularization elsewhere)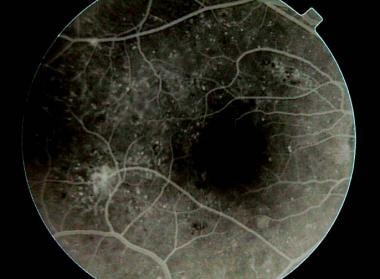 An area of neovascularization that leaks fluorescein on angiography.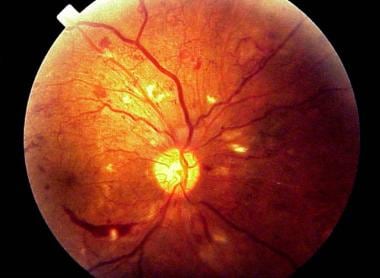 Boat-shaped preretinal hemorrhage associated with neovascularization elsewhere.
In patients with proliferative diabetic retinopathy (PDR), nocturnal intermittent hypoxia/reoxygenation that results from sleep-disordered breathing may be a risk factor for iris and/or angle neovascularization. [18]
Neovascularization is most commonly observed at the borders of perfused and nonperfused retina and most commonly occurs along the vascular arcades and at the optic nerve head. The new vessels break through and grow along the surface of the retina and into the scaffold of the posterior hyaloid face. By themselves, these vessels rarely cause visual compromise, but they are fragile and highly permeable. These delicate vessels are disrupted easily by vitreous traction, which leads to hemorrhage into the vitreous cavity or the preretinal space.
These new blood vessels initially are associated with a small amount of fibroglial tissue formation. However, as the density of the neovascular frond increases, so does the degree of fibrous tissue formation.
In later stages, the vessels may regress, leaving only networks of avascular fibrous tissue adherent to both the retina and the posterior hyaloid face. As the vitreous contracts, it may exert tractional forces on the retina via these fibroglial connections. Traction may cause retinal edema, retinal heterotropia, and both tractional retinal detachments and retinal tear formation with subsequent detachment.
COVID-19
A study by Corcillo et al of 187 patients with type 1 (n=8) or type 2 (n=179) diabetes suggested that in individuals with diabetes who are hospitalized for coronavirus disease 2019 (COVID-19), the risk of intubation is more than five-fold greater in those with diabetic retinopathy. However, the investigators stated that because of the study's cross-sectional design, they were unable to prove that diabetic retinopathy actually causes intubation, with further research required. [19, 20]
---
Did this answer your question?
Additional feedback? (Optional)
Thank you for your feedback!