Answer
Using nailfold video capillaroscopy, a high prevalence of capillary changes is detected in patients with diabetes, particularly those with retinal damage. This reflects a generalized microvessel involvement in both type 1 and type 2 diabetes. [17]
Ruptured microaneurysms result in retinal hemorrhages either superficially (flame-shaped hemorrhages) or in deeper layers of the retina (blot and dot hemorrhages). (See the image below.)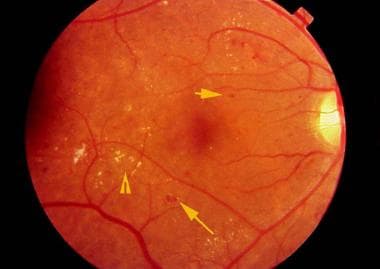 Retinal findings in background diabetic retinopathy, including blot hemorrhages (long arrow), microaneurysms (short arrow), and hard exudates (arrowhead).
Increased permeability of these vessels results in leakage of fluid and proteinaceous material, which clinically appears as retinal thickening and exudates. If the swelling and exudation involve the macula, a diminution in central vision may be experienced.
---
Did this answer your question?
Additional feedback? (Optional)
Thank you for your feedback!