Answer
The exact mechanism by which diabetes causes retinopathy remains unclear, but several theories have been postulated to explain the typical course and history of the disease. [9, 10]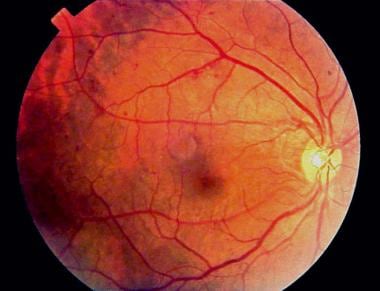 Fundus photograph of early background diabetic retinopathy showing multiple microaneurysms.
Growth hormone
Growth hormone appears to play a causative role in the development and progression of diabetic retinopathy. Diabetic retinopathy has been shown to be reversible in women who had postpartum hemorrhagic necrosis of the pituitary gland (Sheehan syndrome). This led to the controversial practice of pituitary ablation to treat or prevent diabetic retinopathy in the 1950s. This technique has since been abandoned because of numerous systemic complications and the discovery of the effectiveness of laser treatment. It should be noted that diabetic retinopathy has been reported in parients with hypopituitarism as well.
Platelets and blood viscosity
The variety of hematologic abnormalities seen in diabetes, such as increased erythrocyte aggregation, decreased red blood cell deformability, increased platelet aggregation, and adhesion, predispose the patient to sluggish circulation, endothelial damage, and focal capillary occlusion. This leads to retinal ischemia, which, in turn, contributes to the development of diabetic retinopathy.
Aldose reductase and vasoproliferative factors
Fundamentally, diabetes mellitus (DM) causes abnormal glucose metabolism as a result of decreased levels or activity of insulin. Increased levels of blood glucose are thought to have a structural and physiologic effect on retinal capillaries causing them to be both functionally and anatomically incompetent.
A persistent increase in blood glucose levels shunts excess glucose into the aldose reductase pathway in certain tissues, which converts sugars into alcohol (eg, glucose into sorbitol, galactose to dulcitol). Intramural pericytes of retinal capillaries seem to be affected by this increased level of sorbitol, eventually leading to the loss of their primary function (ie, autoregulation of retinal capillaries). This results in weakness and eventual saccular outpouching of capillary walls. These microaneurysms are the earliest detectable signs of DM retinopathy. (See the image below.)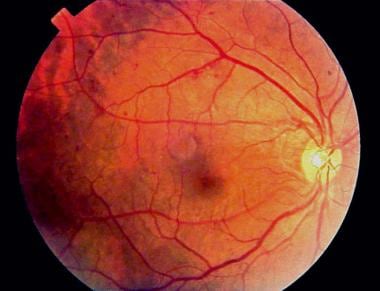 Fundus photograph of early background diabetic retinopathy showing multiple microaneurysms.
---
Did this answer your question?
Additional feedback? (Optional)
Thank you for your feedback!