Answer
Patients with diabetes often develop ophthalmic complications, such as corneal abnormalities, glaucoma, iris neovascularization, cataracts, and neuropathies. The most common and potentially most blinding of these complications, however, is diabetic retinopathy, [1, 2, 3] which is, in fact, the leading cause of new blindness in persons aged 25-74 years in the United States. Approximately 700,000 persons in the United States have proliferative diabetic retinopathy, with an annual incidence of 65,000. An estimate of the prevalence of diabetic retinopathy in the United States showed a high prevalence of 28.5% among those with diabetes aged 40 years or older. [4] (See Epidemiology.)
The exact mechanism by which diabetes causes retinopathy remains unclear, but several theories have been postulated to explain the typical course and history of the disease. [9, 10] See the image below.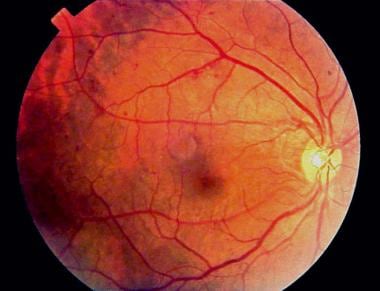 Fundus photograph of early background diabetic retinopathy showing multiple microaneurysms.
---
Did this answer your question?
Additional feedback? (Optional)
Thank you for your feedback!