Answer
Bullous retinal detachment with shifting subretinal fluid: Depending on the position of the patient, the fluid accumulates in its most dependent position.
The retina is characterized by a smooth surface that lacks folds as seen in a rhegmatogenous retinal detachment (RRD).
The anterior segment may show signs of inflammation (eg, episcleral injection, iridocyclitis) or even rubeosis depending on the underlying cause.
In chronic cases, deposition of hard exudates may be seen.
Dilated telangiectatic vessels may be seen.
The images below show exudative retinal detachment in a patient with Coats disease.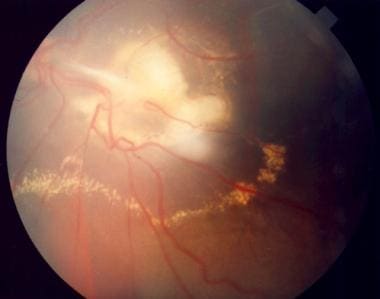 An 8-year-old boy with Coats disease. Notice the macular exudation.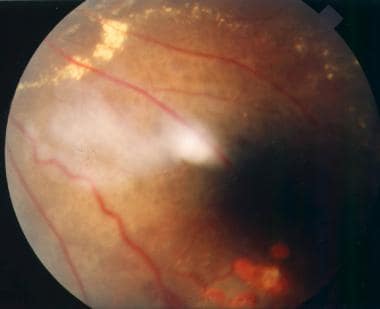 An 8-year-old boy with Coats disease. Notice the peripheral vascular dilatations. This patient underwent cryotherapy months before, and the exudative retinal detachment has basically disappeared.
---
Did this answer your question?
Additional feedback? (Optional)
Thank you for your feedback!