Answer
Broadly, CRVO can be divided into 2 clinical types, ischemic and nonischemic. In addition, a number of patients may have an intermediate presentation with variable clinical course. On initial presentation, it may be difficult to classify a given patient into either category, since CRVO may change with time.
A number of clinical and ancillary investigative factors are taken into account for classifying CRVO, including vision at presentation, presence or absence of relative afferent pupillary defect, extent of retinal hemorrhages, cotton-wool spots, extent of retinal perfusion by fluorescein angiography, and electroretinographic changes.
Nonischemic CRVO is the milder form of the disease. It may present with good vision, few retinal hemorrhages and cotton-wool spots, no relative afferent pupillary defect, and good perfusion to the retina. Nonischemic CRVO may resolve fully with good visual outcome or may progress to the ischemic type. Note the images below.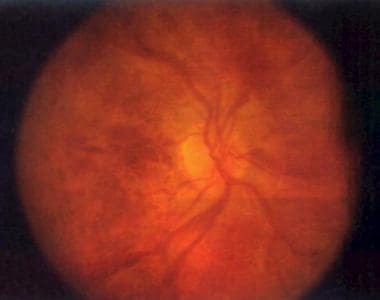 Patient with nonischemic central retinal vein occlusion presented with dilated, tortuous veins and superficial hemorrhages.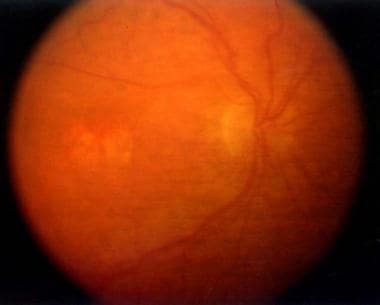 Fundus picture of the same patient with central retinal vein occlusion as in previous image, showing resolved hemorrhages and pigmentary changes in the macula several months later.
Ischemic CRVO is the severe form of the disease. CRVO may present initially as the ischemic type, or it may progress from nonischemic. Usually, ischemic CRVO presents with severe visual loss, extensive retinal hemorrhages and cotton-wool spots, presence of relative afferent pupillary defect, poor perfusion to retina, and presence of severe electroretinographic changes. In addition, patients may end up with neovascular glaucoma and a painful blind eye.
---
Did this answer your question?
Additional feedback? (Optional)
Thank you for your feedback!