Answer
Search for a source of infection. Studies should be considered to rule out the possibility of a concurrent occult infection contributing to the new hypoglycemic episode (eg, complete physical examination, chest radiography (particularly in diabetic patients presenting with hypoglycemia), urinalysis, blood cultures).
Check liver function tests, serum insulin levels, and cortisol and thyroid levels. Proinsulin normally represents less than 20% of total immunoreactive insulin; in patients with islet-cell tumors, proinsulin may contribute as much as 70% of insulin immunoreactivity.
Provocative tests involving the administration of arginine, leucine, calcium, glucagon, or tolbutamide are generally of limited value, because their sensitivity or specificity is inadequate. [21]
Other causes of hypoglycemia should be properly investigated (see Differentials). For example, a morning cortisol level determination and/or adrenocorticotropic hormone (ACTH) stimulation testing should be performed if adrenal insufficiency is suspected.
See a diagnostic algorithm for hypoglycemia below.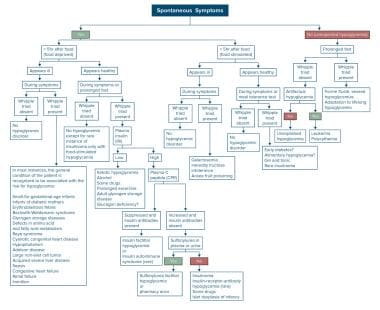 Diagnostic algorithm. A systematic approach is often required to establish the true cause of hypoglycemia, using an algorithmic approach.
---
Did this answer your question?
Additional feedback? (Optional)
Thank you for your feedback!