Answer
To diagnose hypoglycemia, the Whipple triad is characteristically present. This triad includes the documentation of low blood sugar, presence of symptoms, and reversal of these symptoms when the blood sugar level is restored to normal. See a diagnostic algorithm for hypoglycemia, below.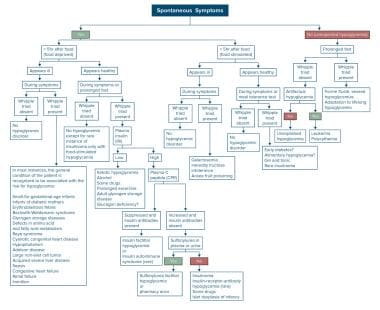 Diagnostic algorithm. A systematic approach is often required to establish the true cause of hypoglycemia, using an algorithmic approach.
See also Pediatric Hypoglycemia, Neonatal Hypoglycemia, Emergent Management of Acute Symptoms of Hypoglycemia, and Congenital Hyperinsulinism.
---
Did this answer your question?
Additional feedback? (Optional)
Thank you for your feedback!