Answer
Answer
CT scan and MRI have made it possible to make a strongly presumptive diagnosis of orbital lymphoid tumors. They are more reliable than B-scan ultrasonography in the diagnosis of orbital lymphoma. Positron emission tomography (PET) is useful in selected settings as well.
CT scan of the orbits is a sensitive investigation that facilitates the diagnosis of orbital and adnexal lymphoma. On CT scan of the orbits, orbital lymphomas are seen as well-defined, lobulated or nodular, homogeneous masses of relatively high density and sharp margins. The lesions mold themselves to preexisting structures without eroding the bone (see the image below). [31]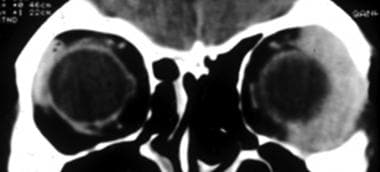 Homogeneous isodense orbital mass molding around the lateral ocular surface.
The following 4 patterns are commonly seen:
Lacrimal gland involvement

Extension of a lymphomatous lesion
The lesion is usually extraconal but can extend intraconally as well. Lacrimal gland disease may involve both orbital lobes and palpebral lobes. The lacrimal sac [32] and extraocular muscles [33] may also be involved. A streaky appearance may be seen, which represents irregular infiltration of the microfascial structure of retrobulbar fat. [34] Calcification is rarely seen. Heterogeneous lesions with bony destruction are indicative of high-grade lymphomas. [35] Bilateral lesions are possible and can signify systemic disease.
MRI of the orbits possesses good soft tissue definition; however, it lacks the ability to delineate bone destruction, which can be seen in high-grade lymphomas. MRI may miss conjunctival disease. [36]
Orbital lesions are usually hypointense [31] or isointense on T1-weighted MRI and hyperintense on T2-weighted images. Gadolinium enhancement is seen on T1-weighted images. [35] This is indicative of high cellularity.
Fluorine-18 deoxyglucose PET (FDG-PET) can sometimes find systemic extranodal lymphomatous sites that are not detected with conventional imaging studies. This ability yields valuable information in patients with ocular lymphoma, which may result in important changes in staging and also in patient management. [37, 38, 39] PET has been found to have a higher sensitivity than CT scan (86% vs 72%) in detecting distant disease. [35]
---
Did this answer your question?
Additional feedback? (Optional)
Thank you for your feedback!