Answer
In rare instances, Graves disease affects the skin through deposition of glycosaminoglycans in the dermis of the lower leg. This causes nonpitting edema, which is usually associated with erythema and thickening of the skin, without pain or pruritus (see the image below).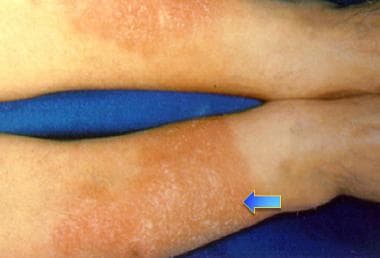 Bilateral erythematous infiltrative plaques on lower extremities in 42-year-old man with Graves disease are consistent with pretibial myxedema. Myxedematous changes of skin usually occur in pretibial areas and resemble orange peel in color and texture.
---
Did this answer your question?
Additional feedback? (Optional)
Thank you for your feedback!