Answer
The examination of vision loss can be approached anatomically, from the anterior orbit (refraction and tear film) to posterior skull (occipital lobe of the brain). Examination of patients with vision loss consists of a complete neuro-ophthalmic assessment, consisting of the following:
Best corrected distance visual acuity, including refraction

Pupil reactivity, including assessment for a relative afferent pupillary defect

Intraocular pressure

Color vision testing

Confrontational visual fields

Extraocular motility

Slit-lamp examination to assess for conjunctival injection, inflammation, corneal sensation, corneal edema, and media opacities

Fundus examination, including assessment of the optic nerve head for swelling
The physical examination is used to help narrow the differential diagnoses. Slit-lamp examination can be used to rule out an ocular cause for vision loss, including corneal abrasions, keratopathy, and ulcers, which may present as a red painful eye. A non-injected eye may be painful owing to nonocular causes, including optic neuritis, cluster headaches, sinusitis, or dental pain. Elevated intraocular pressure can be attributed to acute angle-closure glaucoma.
The anterior chamber should be evaluated for hyphema and cells. See the image below.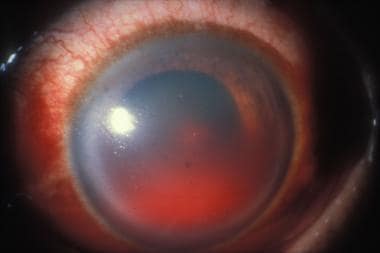 Hyphema - Blood in anterior chamber resulting from trauma.
In injected, painful eyes with normal fluorescein examination findings and pressure, the presence of inflammatory cells in the anterior chamber suggests an anterior uveitis or endophthalmitis, especially in patients with a recent history of ocular surgery.
Confrontational visual field testing is used to assess for a peripheral field visual field cut. In general, field defects that respect the horizontal midline suggest an ocular lesion. Field loss that respects the vertical midline suggests cerebral pathology.
Careful fundus examination is part of a complete ophthalmic assessment.
When the fundus cannot be visualized, ocular ultrasonography should be performed to exclude retinal detachment, posterior vitreous detachment, vitreous hemorrhage, ocular tumors, intraocular foreign bodies, retrobulbar hematoma, and increased intracranial pressure. [6]
The examination should also include complete cardiac and neurologic evaluation, including auscultation for murmurs and carotid bruits.
In patients with severe monocular vision loss not involving the temporal crescent, the absence of a relative afferent pupillary defect suggests functional vision loss. Optokinetic testing can also be helpful in functional vision loss. If optokinetic nystagmus occurs, the patient usually has at least 20/400 vision. Moving a mirror (placed close to the patient's face) will cause the eyes to move if vision is present. Tunneling of the visual field may differentiate physiologic from functional (psychological) visual field loss. The examiner can retest the field after doubling the distance between the patient and the target screen. In physiologic visual loss, this should double the size of the central visual field, whereas in hysterical visual loss, the visual field remains constricted.
---
Did this answer your question?
Additional feedback? (Optional)
Thank you for your feedback!