Answer
Alkaline substances are lipophilic and can penetrate cell membranes. They dissociate into a hydroxyl ion and a cation in the ocular surface. The hydroxyl ion saponifies cell membrane fatty acids, while the cation interacts with stromal collagen and glycosaminoglycans. This interaction facilitates deeper penetration into and through the cornea and into the anterior segment. Subsequent hydration of glycosaminoglycans results in stromal haze. Collagen hydration causes fibril distortion and shortening, leading to trabecular meshwork alterations that, in turn, result in increased intraocular pressure (IOP), sometimes permanent. Additionally, the inflammatory mediators released during this process stimulate the release of prostaglandins, which can further increase IOP. [5] See the image below.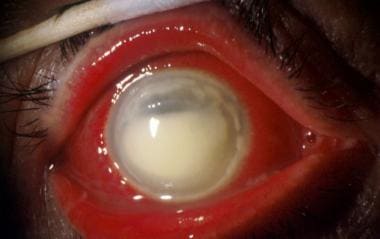 Alkali burn. Note the severe conjunctival reaction and stromal opacification blurring iris details inferiorly.
---
Did this answer your question?
Additional feedback? (Optional)
Thank you for your feedback!