Answer
Chemical injuries to the eye represent one of the true ophthalmic emergencies, wherein time is truly critical. While almost any chemical can cause ocular irritation, serious damage generally results from either strongly basic (alkaline) compounds or strongly acidic compounds. Alkali injuries are more common and can be more clinically challenging, with a significant potential for long-term morbidity. Bilateral ocular chemical exposure is especially devastating, often resulting in complete visual disability. Immediate, prolonged irrigation, followed by aggressive early management and close long-term monitoring, is essential to promote ocular surface healing and to provide the best opportunity for visual rehabilitation. [1, 2, 3] See the image below.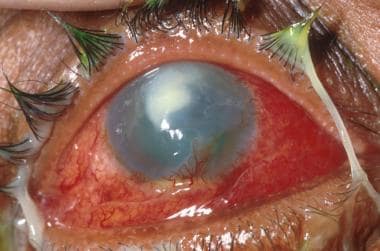 Severe chemical injury with early corneal neovascularization.
---
Did this answer your question?
Additional feedback? (Optional)
Thank you for your feedback!