Answer
Answer
Studies have shown that the risk of developing MS increases over time in patients who present with optic neuritis as a CIS. In a study conducted by Rodriguez et al, the 10-year risk of clinically definite MS was 39%, the 20-year risk was 49%, and the 40-year risk was 60%. [33] In the longitudinal follow-up from the ONTT, the 15-year risk of developing clinically definite MS was 25% in patients with no brain lesions on baseline MRI, compared with 72% in patients with one or more lesions (see image below). [34]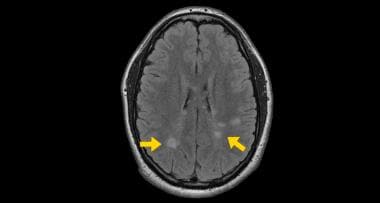 Cranial MRI study showing typical white matter lesions (arrows).
The risk of MS was 3 times higher in women in the ONTT. [34] Moreover, MS was more than twice as likely to develop in cases of retrobulbar optic neuritis than in cases of papillitis. [34] However, in the ONTT era, MS was diagnosed based on clinical criteria, whereas MS can currently be diagnosed at the time of the first clinical event based on MRI evidence of dissemination lesions in space and time. [5]
---
Did this answer your question?
Additional feedback? (Optional)
Thank you for your feedback!