Answer
Answer
Visual recovery after acute optic neuritis tends to be favorable and frequently occurs within 3-6 weeks of symptom onset. During this time, patients develop optic atrophy, with temporal optic disc pallor (see image below). In the ONTT, mean visual acuity one year after entry improved to 20/20 (Snellen equivalent), with less than 10% having a visual acuity worse than 20/40. [30] Early features that may predict less-favorable recovery following optic neuritis include visual acuity of 20/50 or worse, contrast sensitivity less than 1.0 log units, and visual field mean deviation of -15 decibels or less 1 month after initial presentation. [31] Motion perception deficits have shown to persist a year after optic neuritis, despite recovery of high- and low-contrast visual acuity, color vision, and visual field performance. [32] Persistent deficits in motion perception may partly explain why many patients with optic neuritis describe problems with visual tracking in the postacute phase.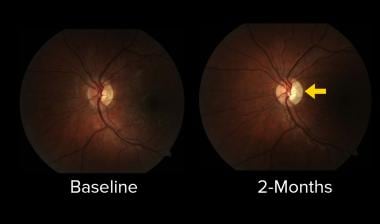 The evolution of temporal optic disc pallor (arrow) after left optic neuritis.
---
Did this answer your question?
Additional feedback? (Optional)
Thank you for your feedback!