Answer
For small linear lesions, excision is recommended, as scarring should blend in with the surrounding eyelid tissue. Smaller bulging lesions can be "uncapped" and removed; then, the flap can be replaced and sutured.
Doi recommends using a surgical microscope, undermining between the tumor and the orbicularis oculi with an 11 blade, raising the flap and carefully removing the tumor piece by piece with microscissors from the reverse side, and then suturing the flap with 7-0 nylon. [4]
In full-thickness excisions, the lower lid is more prone to prominent scarring, as the tissue tends to be thicker. Simple excision of larger lesions risks eyelid retraction, ectropion, or the need for more complicated reconstructive procedures. When xanthelasma removal has been incorporated into routine blepharoplasty, extending the incisional limits increases the risk for ectropion or webbing.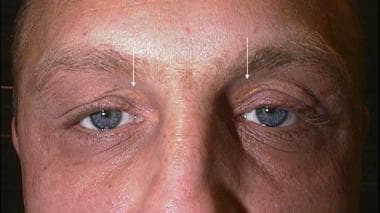 Case presentation of excision of recurrent xanthelasma. Recurrent xanthelasma bilateral upper lids; previous excision combined with blepharoplasty; patient insistent on repeat excision and blepharoplasty; advised of lagophthalmos risk due to medial position and lack of medial dermatochalasis.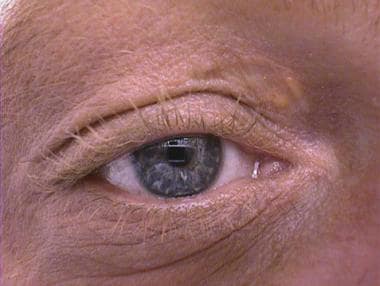 Close-up view of recurrent xanthelasma right upper lid. Note the scar from previous excision by a plastic surgeon. Careful examination reveals subtle infiltration in the lateral aspect of scar.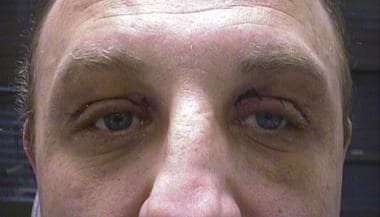 Xanthelasma. External view, 1 week after surgery. Sliding and rotational flaps from residual lateral dermatochalasis used for medial excisional gap.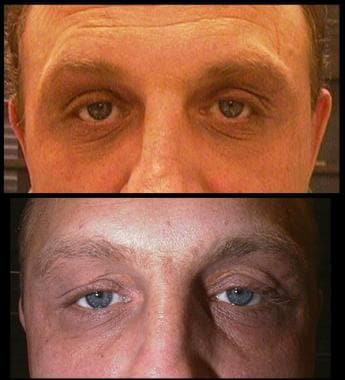 Xanthelasma. Top image, 4 weeks after surgery; lower image, before surgery.
---
Did this answer your question?
Additional feedback? (Optional)
Thank you for your feedback!