Answer
Xanthelasma are yellowish plaques that occur most commonly near the inner canthus of the eyelid, more often on the upper lid than the lower lid. Xanthelasma palpebrarum is the most common cutaneous xanthoma. See the image below.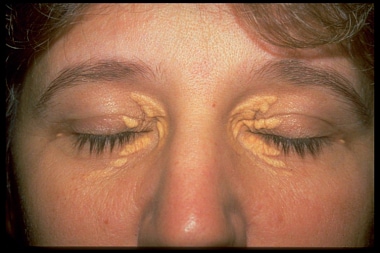 Xanthelesma of four eyelids in patient with hyperlipidemia.
Xanthelasma can be soft, semisolid, or calcareous. Frequently, they are symmetrical, and all four lids are sometimes involved. Xanthelasma tends to progress, coalesce, and become permanent.
The term xanthelasma is derived from the Greek xanthos (yellow) and elasma (beaten metal plate).
See Can You Recognize Benign Skin Lesions From Cancerous Ones?, a Critical Images slideshow, to help identify various skin lesions.
---
Did this answer your question?
Additional feedback? (Optional)
Thank you for your feedback!