Answer
Most children with heterozygous FH do not develop tendon xanthomas or corneal arcus. By the third decade of life, more than 60% of patients with untreated FH develop tendon xanthomas as in the image below.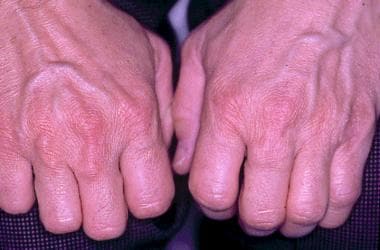 Metacarpophalangeal joint tendon xanthomas in a 45-year-old man with heterozygous familial hypercholesterolemia.
Xanthomas are noted commonly on the Achilles tendons and metacarpal phalangeal extensor tendons of the hands.
The figures in many textbooks suggest that tendon xanthomas in heterozygous patients are readily apparent upon gross inspection. Unfortunately, this often is not the case. Careful palpation rather than simple inspection may be necessary for detection of Achilles tendon xanthomas. A diffusely thickened tendon or one with discreet irregularities is suggestive of a xanthoma.
Tendon xanthomas of the metacarpophalangeal joints may be seen by careful inspection and palpation. Slowly flexing and extending the digits and watching for nodules that move with the motion of the tendon make these xanthomas more noticeable and distinguish them from cutaneous or subcutaneous nodules.
Xanthelasmas may occur in older patients with normal cholesterol levels and this finding is, therefore, not specific for FH.
The presence of tendon xanthomas is often stated to be pathognomonic for FH but that is not the case.
As described below, patients with familial ligand defective apoB-100 may have tendon xanthomas and equivalent laboratory values.
27-hydroxylase deficiency (cerebrotendinous xanthomatosis) causes tendon xanthomas due to the accumulation of both cholesterol and cholestanol. But this rare disease causes other abnormalities (dementia, ataxia, cataracts) with normal cholesterol levels and, therefore, cannot be confused with FH.
Sitosterolemia (phytosterolemia), a rare autosomal recessive disease, is characterized by hyperabsorption of plant sterols. [24, 26] Tendon xanthomas may be present though cholesterol levels are normal or only mildly elevated.
Uncommonly, patients with dysbetalipoproteinemia have tendon xanthomas.
---
Did this answer your question?
Additional feedback? (Optional)
Thank you for your feedback!