Answer
Skin lesions are well demarcated, rubbery, tan-orange papulonodules ranging from 1-20 mm in size. They may be single or multiple and usually occur on the head and neck, but they may appear at any site on the body surface. [9] See the image below.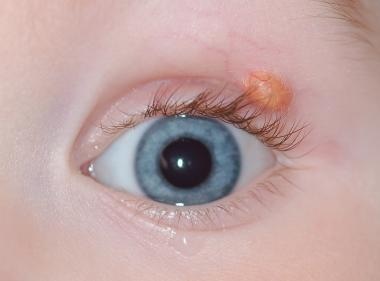 Juvenile xanthogranuloma. Photograph of an 18-month-old presenting with a firm, nodular, tan-yellow lesion that has grown since first noticed 6 months ago. An examination under anesthesia did not reveal any ocular abnormalities. Excision of the lesion confirmed that this was a juvenile xanthogranuloma.
Extracutaneous involvement occurs in 4% of children and in 5-10% overall. Extracutaneous involvement has been reported in every organ system in the body, including central nervous system, [10] eye, salivary glands, larynx, lung, pericardium, myocardium, liver, spleen, colon, retroperitoneum, kidney, adrenal gland, gonads, bone, periosteum, muscle, and mucous membranes.
Ocular lesions usually involve the iris, but they may occasionally be seen in the eyelids, conjunctiva, cornea, limbal tissue, sclera, retina, choroid, optic nerve, and orbit. Cases are usually unilateral, but bilateral cases have been reported.
Iris lesions most often resemble isolated cutaneous lesions in color and appearance. They may be single or multiple and localized or diffuse. Tumors have been described to increase in thickness and lighten in color with maturation.
Iris JXG also may present as diffuse conjunctival injection with uveitis, congenital or acquired heterochromia iridis, spontaneous hyphema, or secondary glaucoma. Involvement of other uveal tissue is very uncommon.
The second most commonly affected ocular site is the eyelid. [11] Lesions appear as typical cutaneous tumors. Subcutaneous forms are rare, but they can mimic a recurrent/nonresolving chalazion. They can cause deprivational amblyopia or refractive amblyopia if they induce significant astigmatism.
Intraocular lesions rarely have been reported in the posterior pole.
Cutaneous lesions may appear before or after an ocular diagnosis has been made, with a delay of up to 8-10 months. Cutaneous and iris JXG present at a mean age of 3.3 years. Periocular JXG presents later, at a mean age of 6.5 years.
Although ocular involvement in patients with cutaneous JXG is rare, visual sequelae can lead to loss of vision. Therefore, all patients who present with typical JXG cutaneous lesions should be referred for a complete ophthalmologic examination.
Spontaneous hyphema is a common presenting sign in iris JXG. The differential diagnoses of hyphema in childhood include trauma, neoplastic conditions such as retinoblastoma, medulloepithelioma, leukemia, retinopathy of prematurity, and blood dyscrasias. These disorders should be excluded before JXG can be diagnosed.
When a spontaneous hyphema is the presenting finding, iris JXG appearing as nodular or diffuse lesions can be seen. Nodular iris JXG appears as a well-circumscribed, thickened, orange-colored lesion. Diffuse iris JXG appears as a thin coating or film on the iris surface, blunting the normal iris crypts.
Orbital lesions are extremely uncommon. They usually appear as infiltrative soft tissue tumors and often cause proptosis of the globe. At least one case has been described as a locally aggressive lesion causing bony destruction with intracranial extension.
---
Did this answer your question?
Additional feedback? (Optional)
Thank you for your feedback!