Answer
Juvenile xanthogranuloma (JXG) is primarily a self-limited dermatologic disorder that is associated rarely with systemic manifestations. Infants and small children are mainly affected.
Histiocytic disorders can be divided broadly into two categories: Langerhans cell histiocytosis (LCH) and non-LCH. JXG is a benign cutaneous disorder and is the most common form of non-LCH.
JXG consists of lesions that may be single or multiple and appear as firm, slightly raised papulonodules several millimeters in diameter. They are tan-orange in color and occur frequently on the head and neck, but many extracutaneous sites have been reported. See the image below.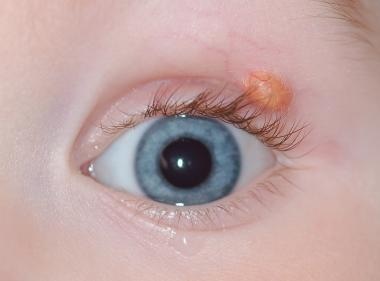 Juvenile xanthogranuloma. Photograph of an 18-month-old presenting with a firm, nodular, tan-yellow lesion that has grown since first noticed 6 months ago. An examination under anesthesia did not reveal any ocular abnormalities. Excision of the lesion confirmed that this was a juvenile xanthogranuloma.
The eye, particularly the uveal tract, is the most frequent site of extracutaneous involvement. Approximately one half of patients with ocular involvement have skin lesions. JXG is the most frequent cause of spontaneous hyphema in children and can result in secondary glaucoma and eventual blindness.
In 1948, Fry first described iris involvement in association with juvenile xanthogranuloma (JXG) at a meeting of the Ophthalmic Pathology Club in Washington, DC (the case was later published by Blank et al a year later). Subsequently, major contributions were by Sanders in 1960 (a multicenter series of 20 cases of iris JXG) and Zimmerman in 1965 (53 cases of ocular JXG). Zimmerman demonstrated that the iris and eyelid were the two most common ocular sites involved.
---
Did this answer your question?
Additional feedback? (Optional)
Thank you for your feedback!