Answer
Goldmann applanation tonometry is considered the criterion standard. However, Goldmann applanation is dependent on corneal rigidity, curvature, thickness (measured by pachymetry), and other biomechanical properties, so there is much room for error in patients with atypical corneas or other eye conditions. Particularly, with the advent of refractive corneal procedures, and the subsequent exponential increase of postsurgical eyes, the issue of tonometric accuracy is becoming more and more paramount.
Studies now strongly suggest that applanation pressures vary significantly depending on corneal thickness, as follows:
Some patients diagnosed with OHT actually may be normotensive when corrected for increased corneal thickness.

Some supposed glaucoma suspects or patients with apparent low-tension glaucoma (with normal range IOPs on applanation) can have abnormally thin corneas on pachymetry (central corneal thickness measurements); therefore, their IOP measurements are underestimated by applanation.

Corneal thickness plays a role in the development of glaucoma in those with OHT (see Mortality/Morbidity and image below).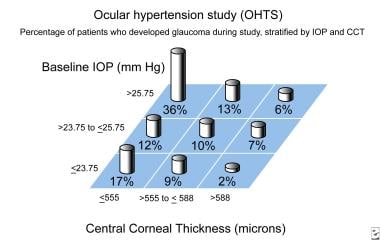 Ocular hypertension study (OHTS). Percentage of patients who developed glaucoma during this study, stratified by baseline intraocular pressure (IOP) and central corneal thickness (CCT).
---
Did this answer your question?
Additional feedback? (Optional)
Thank you for your feedback!