Answer
Patients suspected of having normal-tension glaucoma may need workup to rule out other causes for optic neuropathy, including, but not limited to, CBC, erythrocyte sedimentation rate (ESR), serology for syphilis (micro-hemagglutination-Treponema pallidum [MHA-TP], not Venereal Disease Research Laboratory [VDRL] test), and if suggested by the pattern of visual field loss, neuroimaging.
Progressive visual field loss in a patient with glaucoma is shown in the image below.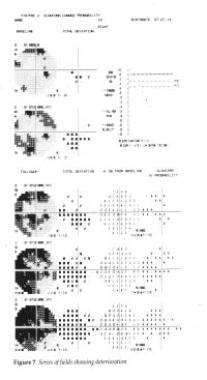 Example of progressive visual field loss over time (from top to bottom) in a patient with glaucoma. Notice the early appearance of an inferior nasal step and arcuate loss, with progressive enlargement and increasing density of the scotomata over time. Courtesy of M. Bruce Shields, MD.
Some researchers have suggested an autoimmune etiology for some glaucomatous optic neuropathies and have identified monoclonal gammopathies. Serum protein electrophoresis can identify these rare individuals.
---
Did this answer your question?
Additional feedback? (Optional)
Thank you for your feedback!