Answer
A pachymeter is used to measure CCT. According to the OHTS, pachymetry is now the criterion standard for every baseline examination in patients who are at risk for or suspected of having glaucoma (see the image below).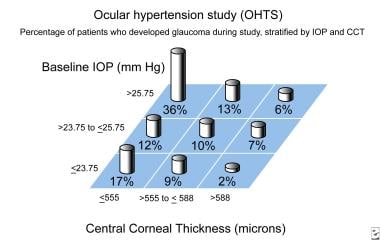 Ocular hypertension study (OHTS). Percentage of patients who developed glaucoma during this study, stratified by baseline intraocular pressure (IOP) and central corneal thickness (CCT).
---
Did this answer your question?
Additional feedback? (Optional)
Thank you for your feedback!