Answer
A flowchart for evaluation of suspected glaucoma is shown below.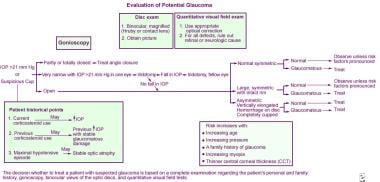 Flowchart for evaluation of a patient with suspected glaucoma. Used by permission of the American Academy of Ophthalmology.
Emphasize the following points during the examination to distinguish POAG from either secondary causes of glaucoma or from OHT in patients with only elevated IOP and no damage.
Compare visual acuity with previous known acuities. If declining, rule out secondary causes of vision loss, whether it is from cataracts, age-related macular degeneration (ARMD), ocular surface disorders (eg, dry eye), or adverse effects from topical medications (especially if using miotics).
Pupils - Test for relative afferent pupillary defect (Marcus Gunn pupil).
---
Did this answer your question?
Additional feedback? (Optional)
Thank you for your feedback!