Answer
Over a 5-year period, several studies have shown the incidence of new onset of glaucomatous damage in previously unaffected patients to be about 2.6-3% for IOPs 21-25 mm Hg, 12-26% incidence for IOPs 26-30 mm Hg, and approximately 42% for those higher than 30 mm Hg.
The Ocular Hypertension Treatment Study (OHTS) found that the overall risk for patients with IOPs ranging from 24-31 mm Hg but with no clinical signs of glaucoma have an average risk of 10% of developing glaucoma over 5 years, with that risk being cut in half if patients are preemptively started on IOP-lowering therapy. Significant subsets of higher and lower risk exist when pachymetry (central corneal thickness [CCT]) is taken into account (see the image below).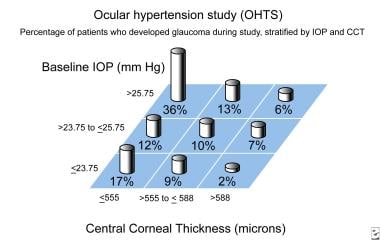 Ocular hypertension study (OHTS). Percentage of patients who developed glaucoma during this study, stratified by baseline intraocular pressure (IOP) and central corneal thickness (CCT).
Some patients' first sign of morbidity from elevated IOP can be presentation with sudden loss of vision due to a central retinal vein occlusion (CRVO), the second most common risk factor for CRVO behind systemic hypertension.
See References for additional resources.
---
Did this answer your question?
Additional feedback? (Optional)
Thank you for your feedback!