Answer
Multiple population studies (eg, Framingham, Beaver Dam, Baltimore, Rotterdam, Barbados, Egna-Neumarkt) have been performed to estimate the prevalence of eye disease, including that of POAG and those individuals with ocular hypertension (OHT) who are at risk for POAG.
Estimates of the prevalence of glaucoma in studies involving only the United States suggest the following: glaucoma is a leading cause of irreversible blindness, second only to macular degeneration; only one half of the people who have glaucoma may be aware that they have the disease; and more than 2.25 million Americans aged 40 years and older have POAG.
More than 1.6 million have significant visual impairment, with 84,000-116,000 bilaterally blind in the United States alone. These statistics emphasize the need to identify and closely monitor those at risk of glaucomatous damage.
In a white population at risk for glaucoma, visual field loss can be expected to develop in about 3% of subjects over 10 years of follow up without treatment. Risk increases with age and IOP. [4]
In the United States, 3-6 million people, including 4-10% of the population older than 40 years, are currently without detectable signs of glaucomatous damage using present-day clinical testing, but they are at risk due to IOP of 21 mm Hg or higher. Roughly 0.5-1% per year of those individuals with elevated IOP will develop glaucoma over a period of 5-10 years. The risk may be declining to less than 1% per year, now that ophthalmoscopic and perimetric techniques for detecting glaucomatous damage have improved significantly.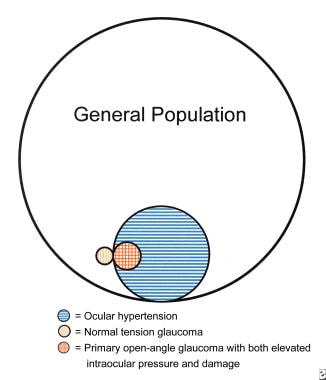 Diagram showing the relative proportion of people in the general population who have elevated pressure (horizontally shaded lines) and/or damage from glaucoma (vertically shaded lines). Notice that most have elevated pressure but no sign of damage (ie, ocular hypertensives), but there are also those with normal pressures who still have damage from glaucoma (ie, normal tension glaucoma). Courtesy of M. Bruce Shields, MD.OHT = horizontal lines only NTG = vertical lines only POAG and other glaucomas with both elevated intraocular pressure and damage = overlapping horizontal and vertical lines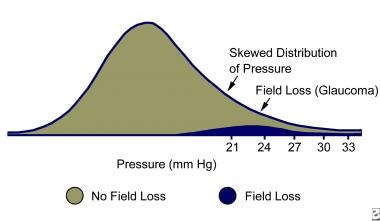 Diagram of intraocular pressure distribution, with a visible skew to the right (somewhat exaggerated compared to the actual distribution). Note that, while uncommon, field loss among individuals with pressures in the upper teens can occur. Also, note that the average pressure among those with glaucomas is in the low 20s, even though most individuals with pressures in the low 20s do not have glaucoma. Used by permission from Survey of Ophthalmology.
---
Did this answer your question?
Additional feedback? (Optional)
Thank you for your feedback!