Answer
Answer
Reactive arthritis refers to an acute nonpurulent arthritis complicating an infection located elsewhere in the body. The term has been used primarily to refer to spondyloarthropathies following enteric or urogenital infections and occurring in individuals who are HLA-B27 positive. Included in this category is what was once referred to as Reiter syndrome and is now referred to as reactive arthritis. Reiter syndrome originally was described as a triad of arthritis, nonspecific urethritis, and conjunctivitis, often accompanied by iritis. Refer to the following image.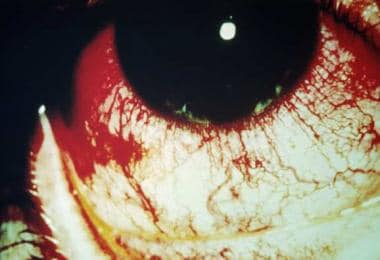 Reactive arthritis, acute conjunctivitis. Courtesy of Paul Dieppe, BSc, MD, FRCP, FFPHM.
Like ankylosing spondylitis, reactive arthritis occurs in individuals who are HLA-B27 positive; in fact, 60-85% of patients with reactive arthritis are HLA-B27 positive. The disease is most common in persons aged 18-40 years, but it has been known to occur in children and older adults. The sex ratio varies, depending on whether the infection is enteric or venereally acquired. The sex ratio following gastrointestinal infection is 1:1, whereas the genitourinary disease primarily affects males. Prevalence of the disease also is high in homosexual and bisexual men, owing to the high rate of genitourinary and gastrointestinal infections in this group. A particular severe form of peripheral spondyloarthropathy following an infection has been described in patients with AIDS.
---
Did this answer your question?
Additional feedback? (Optional)
Thank you for your feedback!