Answer
Answer
Corneal manifestations may include fine keratitic precipitates and fibrin on the endothelium. Corneal edema may result from endothelial compromise and decompensation. Band keratopathy, an accumulation of calcium in the corneal epithelium, may be seen in chronic uveitis. The anterior chamber shows cells and flare, which is a haze seen on slit lamp examination, reflecting protein accumulation in the anterior chamber due to the breakdown of the blood-aqueous barrier, and, in severe inflammation, fibrinous exudate in the anterior chamber may occlude the pupil, causing iris bombe as depicted below. This fibrin may be mistaken for endogenous endophthalmitis, cataract, or hypopyon. A hypopyon may be seen, and, rarely, even a spontaneous hyphema occurs as a result of severely dilated iris vessels.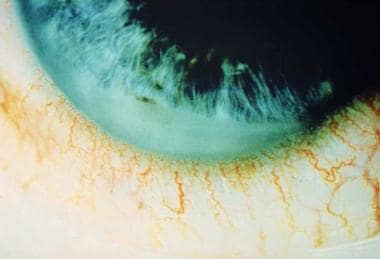 Anterior chamber fibrin collection in ankylosing spondylitis. Courtesy of Paul Dieppe, BSc, MD, FRCP, FFPHM.
Pigment dispersion, pupillary miosis, and iris nodules may be noted, and synechiae, both anterior and posterior, can occur. Posterior segment involvement is relatively rare, but cystoid macular edema, disc edema, pars plana exudates, or choroiditis may be seen. Intraocular pressure often is low, secondary to decreased aqueous production with inflammation of the ciliary body and trabecular meshwork. [10] Intraocular pressure also may be high if inflammatory cells and debris clog the trabecular meshwork, particularly in patients with preexisting poor facility of outflow.
AAU generally runs a short course of a few days to weeks up to 3 months, with a tendency to recur in the same eye, especially in individuals who are HLA-B27 positive. Complications of AAU include cataract, glaucoma, hypotony, cystoid macular edema, and synechiae formation. The prognosis of anterior uveitis associated with HLA-B27, either with or without systemic disease, is less favorable when compared with patients who are HLA-B27 negative with idiopathic anterior uveitis. Despite the potential for sequelae, the overall prognosis is good. [11]
Classic AAU resolves completely when promptly and aggressively treated. Undertreated or misdiagnosed cases may progress to chronic iridocyclitis due to permanent damage of the blood-aqueous barrier.
---
Did this answer your question?
Additional feedback? (Optional)
Thank you for your feedback!