Answer
Answer
HLA-B27 associated acute anterior uveitis (AAU) is the most frequent type of endogenous uveitis (see image below), accounting for 18-32% of all anterior uveitis cases in western countries and for 6-13% of all anterior uveitis cases in Asia. The relatively lower frequency in Asia is related to the lower frequency of HLA-B27 found in this population. As mentioned, there are varying global patterns of HLA-B27 associated AAU that may be attributed to different genetic factors, such as HLA-B27 polymorphisms and non-MHC genes. These geographic variations may also exist because of yet unidentified pathogenic environmental factors.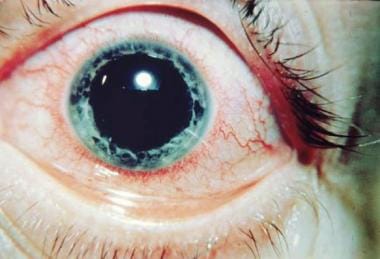 Acute anterior uveitis in ankylosing spondylitis. Courtesy of Paul Dieppe, BSc, MD, FRCP, FFPHM.
---
Did this answer your question?
Additional feedback? (Optional)
Thank you for your feedback!