Answer
Congenital fourth nerve palsies may present with several unique findings, as follows:
Patients with long-standing head tilt present during early childhood may develop facial asymmetry. Characteristically, there is shallowing of face between lateral canthus and side of mouth on the side of head tilt. Any condition that leads to torticollis in early life may result in similar facial asymmetry.

Patients with congenital palsies also tend to develop large, vertical fusional amplitudes, and they may have lack of subjective torsion even when large amounts of fundus torsion are present.
Patients with congenital superior oblique palsy who are lacking a trochlear nerve develop a head tilt at an earlier age. Patients with congenital superior oblique palsy who have a normal trochlear nerve demonstrate more overelevation in adduction and frequent dissociated vertical deviation. [8]
See the image below.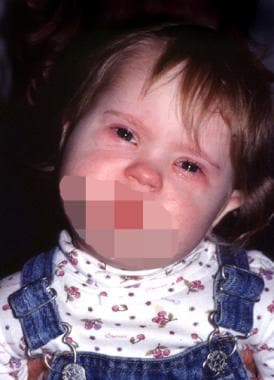 A 2-year-old girl with compensatory left head tilt due to congenital right superior oblique palsy.
---
Did this answer your question?
Additional feedback? (Optional)
Thank you for your feedback!