Answer
Conventional angiography is the definitive test for berry aneurysm in all intracranial locations.
A small but definite risk of angiography causing serious complication, such as embolic stroke, exists. This risk varies with each institution and individual who does the procedure.
Angiography is indicated in a patient with third cranial nerve palsy and dilated, light-fixed pupil. It may be indicated in a patient younger than 55-60 years, especially without a history of long-standing diabetes, hypertension, or both.
When external ophthalmoplegia is partial, pupil sparing is not a reliable indicator of ischemia as opposed to aneurysm as the etiology, so angiography may be warranted in this setting, especially if the patient is young or lacks ischemic risk factors. See the image below.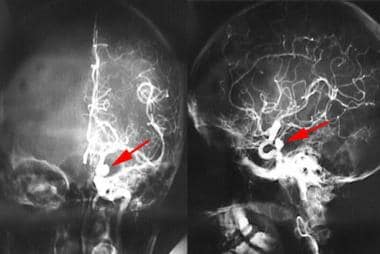 Angiography anteroposterior and lateral views, left posterior communicating artery aneurysm, indicated by red arrow. Courtesy of James Goodwin, MD.
---
Did this answer your question?
Additional feedback? (Optional)
Thank you for your feedback!