Answer
The word apoplexy is defined as a sudden neurologic impairment, usually due to a vascular process. Pituitary apoplexy is characterized by a sudden onset of headache, visual symptoms, altered mental status, and hormonal dysfunction due to acute hemorrhage or infarction of a pituitary gland. An existing pituitary adenoma is usually present. The visual symptoms may include both visual acuity impairment and visual field impairment from involvement of the optic nerve or chiasm and ocular motility dysfunction from involvement of the cranial nerves traversing the cavernous sinus. [1] It is important to note that pituitary apoplexy may be divided into hemorrhagic or ischemic, each with unique neuroimaging findings.
See the image below.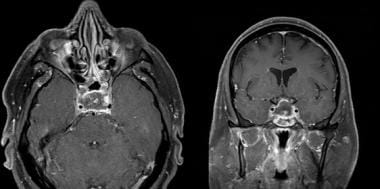 Enhanced T1-weighted axial and coronal MRI showing a large pituitary tumor that has recently undergone ischemic apoplexy showing a necrotic (hypointense) center and ring of gadolinium enhancement (hyperintense), ie, the "pituitary ring sign." There is a small area of hemorrhagic blush in the center of the necrosis.
---
Did this answer your question?
Additional feedback? (Optional)
Thank you for your feedback!