Answer
The rash can begin as macules that develop into papules, vesicles, bullae, urticarial plaques, or confluent erythema. The center of these lesions may be vesicular, purpuric, or necrotic.
The typical lesion has the appearance of a target; this is considered pathognomonic. However, in contrast to the typical lesions of erythema multiforme, these lesions have only two zones of color. The core may be vesicular, purpuric, or necrotic; that zone is surrounded by macular erythema. Some have called these targetoid lesions.
Lesions may become bullous and later rupture, leaving denuded skin. The skin becomes susceptible to secondary infection. Extensive sloughing is shown in the image below.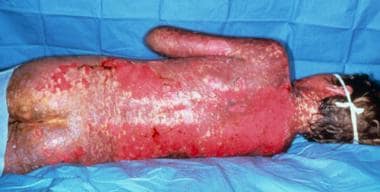 Note extensive sloughing of epidermis from Stevens-Johnson syndrome. Courtesy of David F. Butler, MD.
Urticarial lesions typically are not pruritic. Infection may be responsible for the scarring associated with morbidity.
---
Did this answer your question?
Additional feedback? (Optional)
Thank you for your feedback!