Answer
Rosacea is a common inflammatory dermatologic condition that affects the midface and eyes. [1, 2, 3, 4] Although the etiology of rosacea is not fully understood, an augmented response of the innate immune system and neurovascular pathways to certain triggers are considered to be major factors in the chronic inflammatory process associated with this condition. [5] The nose, cheeks, forehead, chin, and glabella are the most commonly affected areas. Clinical features include flushing, telangiectasias, erythema, papules and pustules, and rhinophyma. More than 50% of patients with rosacea have ocular manifestations, and ocular findings may be the first manifestation of rosacea in some patients.
See the image below.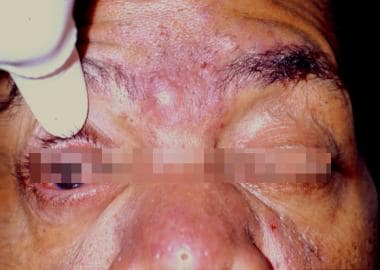 Typical dermatologic findings of rosacea, including midfacial papules, pustules, and rhinophyma.
Manifestations of ocular rosacea range from minor irritation, foreign body sensation, dryness, and blurry vision to severe ocular surface disruption and inflammatory keratitis. Patients frequently describe a gritty feeling, and they commonly experience Blepharitis and conjunctivitis. Other ocular findings include lid margin and conjunctival telangiectasias, eyelid thickening, eyelid crusts and scales, chalazia and hordeolum, punctate epithelial erosions, corneal infiltrates, corneal ulcers, corneal scars, and vascularization. Sight-threatening disease is rare with rosacea; however, keratitis can result in sterile corneal ulceration and eventual perforation if not treated aggressively. [6, 7]
Ocular rosacea is most frequently diagnosed when patients also suffer from cutaneous disease. However, ocular signs and symptoms may occur prior to cutaneous manifestations in 20% of patients with rosacea. No correlation exists between the severity of ocular disease and the severity of facial rosacea.
The symptoms of rosacea can be treated effectively; however, rosacea is a chronic condition with exacerbations and remissions, which requires long-term therapy to maintain symptomatic control.
---
Did this answer your question?
Additional feedback? (Optional)
Thank you for your feedback!