Answer
Tissue adhesives, such as cyanoacrylate glue, are recommended for use in impending perforation and perforation size smaller than 1-2 mm. [6] Adhesive application follows keratectomy and conjunctival resection to remove sources of collagenase, cytokines, and inflammatory cells from the ulcerated cornea, temporarily preventing further stromal loss.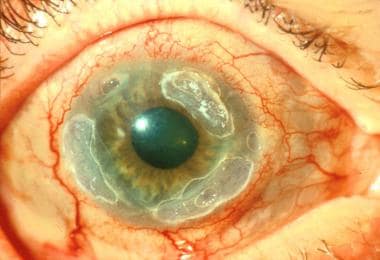 Peripheral ulcerative keratitis in the right eye of a patient with rheumatoid arthritis. Cyanoacrylate glue has been placed.
Application of a bandage contact lens prevents discomfort and dislodging of the adhesive. [6]
Amniotic membrane transplantation has been used in the management of Mooren ulcer. [43] Amniotic membranes have properties that promote rapid healing and reduce inflammation by sequestering inflammatory cells infiltrating the ocular surface. [44, 45] However, they may have a limited role in treating eyes with severe ischemia (eg, rheumatoid arthritis). [46] .
In severe cases of peripheral ulcerative keratitis (PUK) associated with membranous endothelial exudation, anterior chamber washout may be combined with amniotic membrane transplantation. [47]
Tectonic procedures, including lamellar keratoplasty, penetrating keratoplasty, and corneoscleral patch grafts, are performed as needed to maintain the integrity of the globe when corneoscleral perforation is imminent or has occurred.
The corneoscleral rim of donor grafts have been used in partial lamellar keratoplasty and may be an alternative in areas where donor corneas are scarce. [48]
Visual results of corneal transplantation may be disappointing. However, corneal clarity may be maintained with good visual outcomes when accompanied by aggressive systemic anti-inflammatory therapy in selected patients. [13]
---
Did this answer your question?
Additional feedback? (Optional)
Thank you for your feedback!