Answer
The earliest signs of neurotrophic keratopathy include an irregular corneal surface and punctate epithelial erosions. These erosions may progress to a persistent epithelial defect and eventual stromal ulceration.
In contrast to the irregular shape and scalloped borders of an infectious geographic ulcer, a neurotrophic ulcer is typically oval with smooth borders and often lies within the interpalpebral fissures, located in the central or inferior paracentral area of the cornea. Decreased corneal sensitivity helps confirm the diagnosis.
Complications of neurotrophic keratopathy include stromal scarring, neovascularization, necrosis, and perforation. (See the images below.)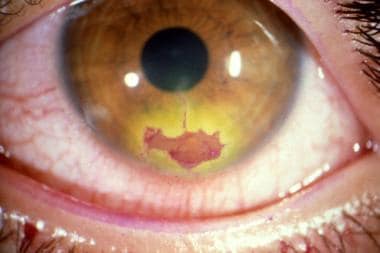 Neurotrophic keratopathy with epithelial defect stained with rose bengal.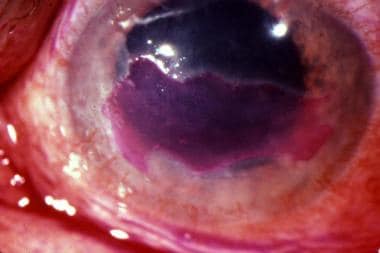 Large neurotrophic ulcer stained with rose bengal.
---
Did this answer your question?
Additional feedback? (Optional)
Thank you for your feedback!