Answer
Answer
Invasive melanoma cells may be small polyhedral, epithelioid, spindled, or ballooned.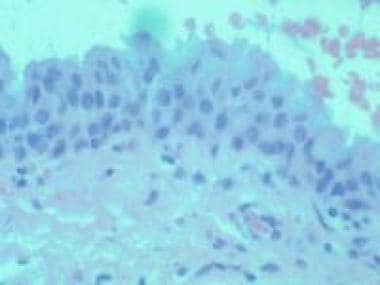 Histologic findings of invasive melanoma cells may be small polyhedral, epithelioid, spindled, or ballooned. Courtesy of Peter Rubin, MD, Director, Eye Plastics Service, Massachusetts Eye & Ear Infirmary, Boston, MA.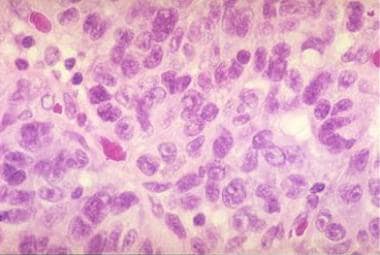 Dysplastic melanocytes may invade beyond the epithelium into the substantia propria or into the globe or lids. Reprinted from University of Utah, Peter DeBry, Kwok Li, and Nick Mamalis, MD, Ophthalmic Pathology: An Internet Ocular Pathology Archive, with permission from University of Utah Ophthalmic Pathology.
Melanoma cells are larger than nevus cells and grow as irregular nests or as individual cells in nodules that extend through all the layers of the epidermis and dermis. Typically, these cells have large nuclei with chromatin clumping at the periphery of the nuclear membrane and distinct eosinophilic nucleoli. The ascent of atypical melanocytes to the surface of the conjunctival epithelium is indicative of malignancy. [19]
As previously mentioned, not all conjunctival melanomas are pigmented; melanomas with little or no pigment can look like squamous and sebaceous gland carcinomas, papillomas, lymphoid hyperplasia, and even pterygia. Staining with the S-100 protein stain and the more specific homatropine methylbromide (HMB-45) antibody stain can assist in diagnosis. [20]
The Callender classification for melanoma does not apply to conjunctival melanomas.
---
Did this answer your question?
Additional feedback? (Optional)
Thank you for your feedback!