Answer
Viral conjunctivitis, or pinkeye (see the image below), is a common, self-limiting condition that is typically caused by adenovirus. Other viruses that can be responsible for conjunctival infection include herpes simplex virus (HSV), varicella-zoster virus (VZV), picornavirus (enterovirus 70, Coxsackie A24), poxvirus (molluscum contagiosum, vaccinia), and human immunodeficiency virus (HIV).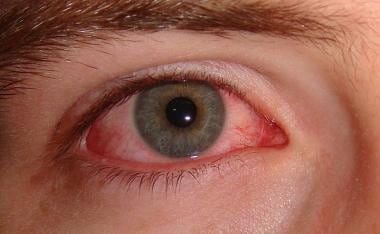 Viral conjunctivitis. Image courtesy of Wikimedia Commons.
Viral conjunctivitis is highly contagious, usually for 10-12 days from onset as long as the eyes are red. Patients should avoid touching their eyes, shaking hands, and sharing towels, napkins, pillow cases, and other fomites, among other activities. Transmission may occur through accidental inoculation of viral particles from the patient's hands or by direct eye contact with infected upper respiratory droplets, fomites, or contaminated swimming pools. The infection usually resolves spontaneously within 2-4 weeks.
---
Did this answer your question?
Additional feedback? (Optional)
Thank you for your feedback!