Answer
Answer
Enucleation is the classic approach to choroidal melanomas and has been the preferred treatment for large (basal diameter >15 mm and height >10 mm) and complicated tumors, which compromise visual function and for which other therapies tend to fail.
Because of potential release of malignant cells into the bloodstream and orbital soft tissues during the surgical procedure, manipulation of the globe should be kept to a minimum. Particular care must be taken to avoid perforation of the globe during surgery. If transscleral extension is found (see the image below), the tumor should be removed in 1 piece, followed by cryotherapy of the involved orbital soft tissues.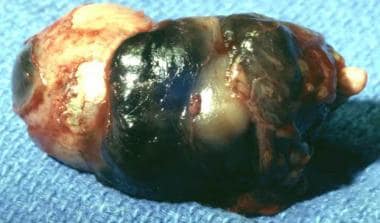 Photograph showing an enucleated eye with advanced choroidal melanoma with transscleral extension.
The theoretical advantage of enucleation over globe-sparing treatments is a reduced risk of metastatic spread. However, the Collaborative Ocular Melanoma Study (COMS), in which medium-sized tumors were treated with either iodine-125 brachytherapy (see below) or enucleation, found that the mortality rates after brachytherapy did not differ from the mortality rates following enucleation for up to 12 years after treatment. [11, 12]
Some investigators have advocated pre-enucleation irradiation of the eye as a way to improve survival. However, the COMS demonstrated neither a positive nor a negative effect on the 10-year mortality rates among patients whose eyes containing large choroidal melanomas were randomly assigned to treatment with enucleation alone or to enucleation preceded by external radiation. [13]
---
Did this answer your question?
Additional feedback? (Optional)
Thank you for your feedback!