Answer
Answer
Observation may be acceptable for posterior uveal tumors where diagnosis is not well established. In particular, tumors of less than 2-2.5 mm in elevation and 10 mm in diameter can be observed until growth is documented. Photography (see the image below) and sequential ultrasonography for precise measuring of the tumor's dimensions are usually necessary.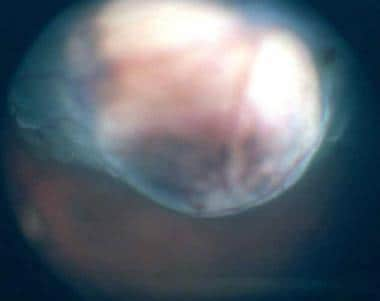 Transpupillary photograph showing a posterior choroidal melanoma.
Choice of treatment of choroidal melanoma remains controversial in many respects. Although enucleation has been the treatment of choice in the past, it appears that vision-sparing approaches might offer similar degrees of ocular and metastatic tumor control—particularly because it is clear that in many patients at the time of diagnosis, posterior uveal melanomas already have spread through micrometastasis.
---
Did this answer your question?
Additional feedback? (Optional)
Thank you for your feedback!