Answer
Answer
Fluorescein angiography and indocyanine green angiography do not show pathognomonic signs of choroidal melanoma but can help point to its diagnosis.
Small choroidal melanomas may show fluorescein angiographic changes similar to some choroidal nevi, with such changes ranging from normal angiography to hypofluorescence secondary to blockage of background fluorescence. Larger melanomas may show a patchy pattern of early hypofluorescence and hyperfluorescence followed by late intense staining (see the image below).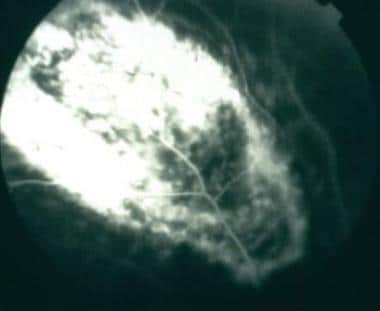 Late fluorescein angiogram of choroidal melanoma showing early diffuse staining.
Some choroidal melanomas demonstrate intrinsic vascularization, visible throughout the angiogram (see the image below). The angiographic sign, called the "double circulation pattern," refers to simultaneous fluorescence of retinal and choroidal circulation within the tumor. When it occurs, it is fairly distinctive of choroidal melanomas.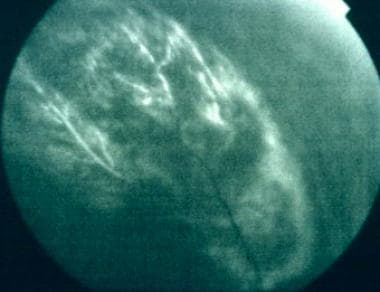 Early fluorescein angiogram of choroidal melanoma showing intrinsic vascularity.
---
Did this answer your question?
Additional feedback? (Optional)
Thank you for your feedback!