Answer
Answer
Patients with choroidal melanoma may present with painless visual loss or, occasionally, inflammation and pain from a complicated tumor. However, many patients have no symptoms, and melanomas are discovered on routine ophthalmologic examination.
Small choroidal melanomas typically take the form of a nodular, dome-shaped, and well-circumscribed mass under the retinal pigment epithelium (see the image below). As they grow, they may adopt more irregular configurations (eg, bilobular, multilobular, or mushroom shapes).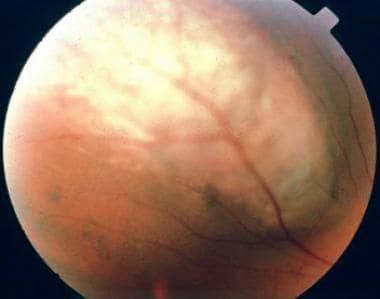 Color photograph of a dome-shaped choroidal melanoma.
An unusual tumor type that may be found is diffuse choroidal melanoma, characterized by lateral growth throughout the choroid with minimal elevation. Diffuse melanomas are more difficult to diagnose and often cause significant exudative retinal detachment. [1]
Choroidal melanomas may have variable coloration, ranging from amelanotic to darkly pigmented. Some tumors are partially pigmented. If the tumor is light-colored, its abnormal vascularization usually can be seen ophthalmoscopically. Overlying the choroidal melanoma there are usually retinal pigment epithelial changes (eg, drusen), patches of atrophy, and orange discoloration. Orange changes in the pigment epithelium have traditionally been regarded as strongly indicative of malignancy; however, it is now well known that they can be seen over benign lesions as well.
Sometimes, a choroidal melanoma may remain undetected underneath a large exudative retinal detachment, a subretinal hemorrhage, or a vitreous hemorrhage. Infrequent presentations of advanced choroidal melanoma are a painful blind eye with cataract and proptosis from tumor transscleral orbital extension.
Anterior choroidal melanomas might show sentinel vessels (dilated episcleral blood vessels visible through the conjunctiva) that feed the metabolically active tumor. Transscleral growth of an anterior choroidal melanoma (mainly through emissary channels) may appear on examination as a small subconjunctival area of abnormal hyperpigmentation.
Transillumination can be used to find the borders of the tumor, especially if it is surrounded by exudative retinal detachment. Its precision is dependent on even tumor pigmentation and if associated hemorrhage is present.
Overall accuracy of the clinical diagnosis of choroidal melanoma, using modern diagnostic tools, was shown to be 99.7% in a preliminary report from the Collaborative Ocular Melanoma Study. [3] Thorough evaluation of choroidal melanoma should include a complete physical examination, with particular attention to the hepatic-abdominal region and the skin and subcutaneous tissues (see the image below), which are frequent sites of metastatic spread.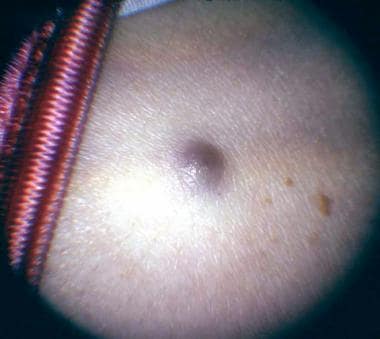 Photograph showing a skin metastasis of a posterior choroidal melanoma.
---
Did this answer your question?
Additional feedback? (Optional)
Thank you for your feedback!