Answer
Glucose intolerance is an umbrella term for a group of metabolic conditions that result in higher than normal blood glucose levels. Both the World Health Organization (WHO) and the American Diabetes Association (ADA) have released classification systems and diagnostic criteria for diabetes mellitus (DM) and allied categories of glucose intolerance. [1, 2, 3, 4] Although similiar, there are a number of variances in recommendations which may result in differences in an individual's classification.
The major categories of the disorders of glycemia or glucose tolerance are as follows:
Type 1 diabetes mellitus (DM) (due to autoimmune B-cell destruction, usually leading to absolute insulin deficiency)

Type 2 diabetes mellitus (due to a progressive loss of B-cell insulin secretion frequently on the background of insulin resistance)

Gestational diabetes mellitus (GDM) (diabetes diagnosed in the second or third trimester of pregnancy that was not clearly overt diabetes prior to gestation) [5]

Specific types of diabetes due to other causes (such as neonatal diabetes and maturity-onset diabetes of the young, diseases of the exocrine pancreas, and drug- or chemical-induced diabetes)

Impaired glucose tolerance (IGT: prediabetes/intermediate hyperglycemia)

Impaired fasting glucose (IFG: prediabetes/intermediate hyperglycemia)
Conditions secondarily associated with glucose intolerance also occur. Etiologic types and stages of the major disorders of glucose intolerance are shown in the image below.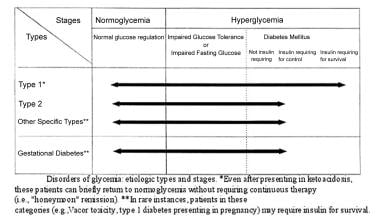 Glucose intolerance. Etiologic types and stages of the major disorders of glucose tolerance are displayed.
In most cases, the diagnosis of a type of diabetes or glucose intolerance is based on the patient's condition at the time, but not all patients have a set of symptoms that fit readily into a particular class (see Presentation).
When hyperglycemia is present, its severity may change in time, depending on the underlying process. Choosing an appropriate management approach to any disorders of glucose intolerance necessitates a strong understanding of the mechanisms involved in the disease process. [6, 7] (See Treatment and Medication.)
---
Did this answer your question?
Additional feedback? (Optional)
Thank you for your feedback!