Answer
Answer
Stage W is scored when there is alpha rhythm in greater than 50% of the epoch (regardless of the epoch's position in the PSG).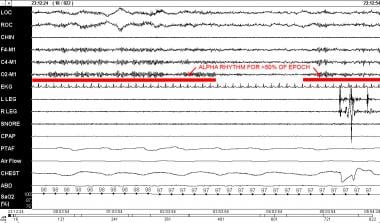 Stage W. Alpha activity is present for greater than 50% of the epoch.
Prior to 2007, Stage W was the equivalent to R and K Stage Wake. The first several epochs of the record will usually be stage W although occasionally a patient is so sleepy that sleep onset may have occurred prior to the recording having been started. In general, during normal wakefulness with closed eyes, Alpha rhythms are detected over the occipital leads with a frequency of 8-13 Hz.
Other features associated with stage W include Beta activity while eyes are open and Alpha activity while eyes are closed on EEG, high-amplitude muscle contractions and movement artifacts on EMG, and eye blinking on EOG.
Up to 20% of normal patients will not have a detectable alpha rhythm on EEG [1] }. In such cases, Stage W may still be scored if one of the three following markers of alertness are detected: eye blinks with the eyes open or closed (with a frequency of 0.5 to 2 Hz); reading eye movements (consisting of a slow phase followed by a rapid movement in the opposite direction); or the presence of irregular conjugate eye movements with normal or high chin muscle tone suggesting that the subject is awake and looking around.
---
Did this answer your question?
Additional feedback? (Optional)
Thank you for your feedback!