Answer
Answer
Calcium channels exist in 3 known forms in the human brain: L, N, and T. These channels are small and are inactivated quickly. The influx of calcium currents in the resting state produces a partial depolarization of the membrane, facilitating the development of an action potential after rapid depolarization of the cell.
Calcium channels function as the " pacemakers " of normal rhythmic brain activity. This is particularly true of the thalamus. T-calcium channels have been known to play a role in the 3 per second spike-and-wave discharges of absence seizures. AEDs that inhibit these T-calcium channels are particularly useful for controlling absence seizures (see the image below).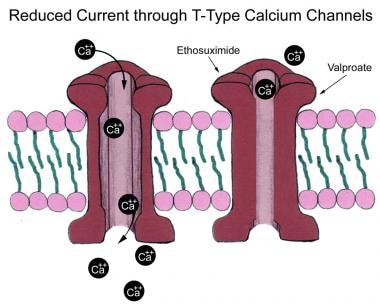 Low-voltage calcium (Ca2+) currents (T-type) are responsible for rhythmic thalamocortical spike and wave patterns of generalized absence seizures. Some antiepileptic drugs lock these channels, inhibiting underlying slow depolarizations necessary to generate spike-wave bursts.
---
Did this answer your question?
Additional feedback? (Optional)
Thank you for your feedback!