Answer
Routine histochemical stains show typical myopathic features, including variability in muscle fiber size with small round fibers and occasional necrotic and regenerating fibers. A mild increase in endomysial connective tissue and internal nuclei are often present. Myosin adenosine triphosphatase (ATPase) stains may show type I fiber smallness or type I fiber predominance.
In X-linked EDMD, immunohistochemical staining using an antiemerin antibody shows the absence of normal staining of the inner nuclear membrane in 95% of patients (see image below). A similar pattern is obtained upon staining of peripheral leukocytes, skin fibroblasts, and buccal cells. Furthermore, detection of female carriers is possible because emerin immunostaining is lost from a percentage of muscle fibers.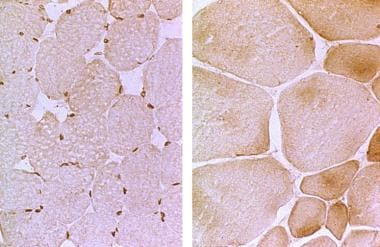 Left: The photomicrograph is a muscle biopsy with normal emerin immunostaining. Right: The micrograph is from a patient with X-linked Emery-Dreifuss muscular dystrophy. Note the absence of nuclear staining as well as the hypertrophied and atrophied muscle fibers.
Immunostaining for lamin A/C is normal in patients with EMD2 as well as in patients with EMD1; therefore, immunostaining results can not be used to diagnose EMD2.
Electron microscopy of patients with EMD1 and EMD2 can show irregularly thickened nuclear lamina, rearranged heterochromatin, chromatin condensation and decondensation, focal chromatin loss or extrusion into the sarcoplasm, nuclear disintegration/fragmentation and tubulofilamentous inclusions within the nuclear matrix. [10]
---
Did this answer your question?
Additional feedback? (Optional)
Thank you for your feedback!