Answer
CT or MRI scans of the brain are performed to identify SEGAs before obstructive hydrocephalus occurs. They also identify the extent and number of cortical tubers present. [2] On occasion, they may reveal vascular dysplastic lesions such as aneurysms.
SEGAs are often large and difficult to resect by the time they produce clinical symptoms; even then, avoiding substantial complications such as blindness, hemiparesis, and shunt dependency may be impossible. Initially their manifestations may be quite subtle, such as a change in personality or behavior. They rarely exhibit significant growth after puberty, if they have not already shown evidence of this. These factors should be considered when planning serial neuroimaging examinations.
The author's own practice has been to perform MRI, rather than CT, scans every 2 years in asymptomatic patients, at least until puberty. In children, sedation usually is required for CT scan, as it is for MRI. MRI is superior to CT scan for detection of tubers, migrational anomalies, and vascular lesions. MRI does not involve radiation exposure, as does CT.
In addition to standard brain MRI protocols, fluid-attenuated inversion recovery sequences (FLAIR) should be obtained. [15] FLAIR is superior for identification of tubers. Contrast can be administered; however, both SEGAs and SENs typically enhance. Contrast enhancement is not in itself an indication that an SEN is going to grow, or that surgical intervention is necessary. MR angiography is useful if an aneurysm or vascular dysplastic lesion is noted.
Some authors have performed resections on SEGAs that exhibit an interval increase in size on serial imaging. Our own practice has been to obtain more frequent imaging studies when a lesion increases in size, provided no signs/symptoms of ventricular obstruction, new focal neurological deficit, or increased intracranial pressure are noted. Lesions may stabilize or stop growing spontaneously after increasing in size (see following images).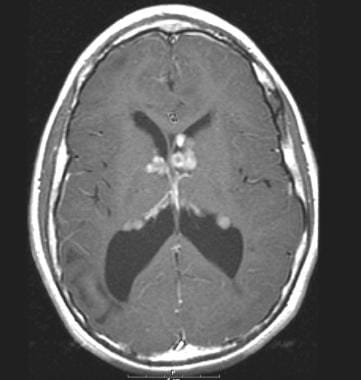 Enhancing subependymal nodules, including a probable giant cell astrocytoma in the region of the foramen of Monro. Subependymal nodules may increase in size over time from one scan to the next, and then stabilize. This lesion had not changed with serial imaging over 2 years. The patient remains asymptomatic and is monitored closely for any deterioration.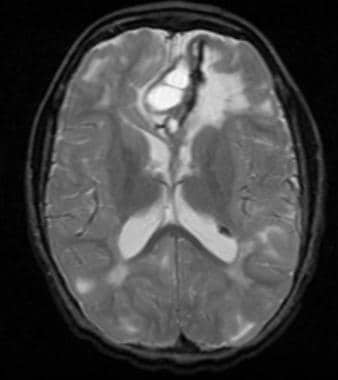 This presumed tuber was first noted in the left frontal region. It expanded in size, affecting adjacent structures across the midline and resulting in calcifications still evident in the right frontal region. The tuber then spontaneously involuted. About 20% of tubers may show changes in imaging characteristics over time, requiring close imaging follow-up. This patient remained asymptomatic from the mass effect, and his seizures resolved as the lesion involuted.
---
Did this answer your question?
Additional feedback? (Optional)
Thank you for your feedback!