Answer
Renal manifestations of TSC are the second most common clinical feature. Four types of lesions can occur: autosomal dominant polycystic kidney disease, isolated renal cyst(s), AMLs, and renal cell carcinoma.
Polycystic kidney disease occurs in 2-3% of persons with TSC, and usually presents early in life with hypertension, hematuria, or renal failure. As noted, this occurs as the result of a genetic abnormality affecting both the TSC2 gene and the PKD1 gene adjacent to it. Individuals with polycystic kidney disease have relatively little functional renal tissue, and ultimately require renal transplantation. They are highly susceptible to complications of urinary tract infection (UTI) or nephrolithiasis, which can produce acute renal failure. This should be borne in mind when using therapies that predispose to UTI or kidney stones, such as steroids, topiramate, zonisamide, or the ketogenic diet.
Renal cysts (as opposed to polycystic kidney disease) are found in 20% of males and 10% of females with TSC. They are rarely if ever symptomatic. Simple renal cysts often occur with AMLs, and this combination should suggest the diagnosis of TSC. Sometimes multiple renal cysts can be confused with true polycystic kidney disease. The presence of significant symptoms such as hypertension or failure to thrive, as well as the absence of associated AMLs, strongly suggest the latter diagnosis.
AMLs are noted in as many as 80% of persons with TSC. They also can occur as isolated lesions in persons without TSC.
As suggested by their name, they consist of abnormal smooth muscle, fat, and blood vessels, each present in varying degrees.
Patients tend to have either multiple small AMLs studding the surface of the kidney or one or more larger lesions. These larger lesions are more apt to be symptomatic, particularly when greater than 4-6 cm in their largest diameter. They often produce nonspecific complaints such as flank pain.
Of rather more concern is potentially life-threatening retroperitoneal hemorrhage from rupture of dysplastic, aneurysmal blood vessels. These hemorrhages also can destroy adjacent normal renal parenchyma or produce abdominal distention and obstruction by mass effects.
Some studies suggest that as many as 75% of AMLs will increase in size over time (see image below). Exactly when intervention is warranted is somewhat controversial. Very large AMLs (>6-8 cm in diameter) are likely to progress and often result in hemorrhage, particularly if prominent abnormal vasculature is present. AMLs with fewer dysplastic vessels may have a smaller risk of catastrophic hemorrhage but can present problems from their sheer size.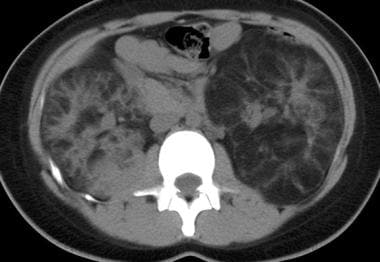 Massive bilateral angiomyolipomas in a woman with tuberous sclerosis. She also has lymphangiomyomatosis.
MRI and MR angiography are often helpful in planning therapy (see following images).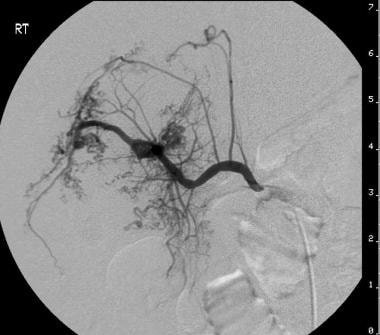 Pre-embolization angiography of the patient with angiomyolipomas shown the previous image. Dysplastic arterial vessels are demonstrated.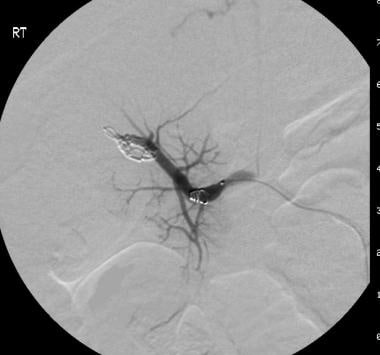 Vessels to the angiomyolipoma shown in the previous image have been occluded with coils. This should produce regression of the lesion and prevention of hemorrhage. Functional intervening renal parenchyma is preserved.
Because of their often exuberant blood supply, standard surgical resection can result in excessive bleeding, with nephrectomy being the end result.
When feasible, selective embolization is the preferred intervention. This procedure typically is able to spare functional renal tissue, directly addresses the chief risk of retroperitoneal hemorrhage, and has a substantially lower rate of morbidity than standard surgery. Some patients experience "postembolization syndrome" consisting of fever, flank pain, and malaise as the embolized lesion becomes necrotic. This usually can be prevented by pretreatment with steroids.
Renal cell carcinoma appears to occur more frequently in persons with TSC than in the general population, although the exact nature of this is unclear. In one series, 5 of 403 patients with TSC were found to have histologic evidence of a renal cell carcinoma. Nonetheless, a large AML is much more common in this population. A rapidly expanding renal mass in the absence of hemorrhage is suggestive of the diagnosis. MRI of the abdomen can be useful in differentiating a large AML from a true malignancy.
---
Did this answer your question?
Additional feedback? (Optional)
Thank you for your feedback!