Answer
Symptomatic pulmonary involvement occurs almost exclusively in adult women, generally aged 30 or older. It was long thought to be distinctly uncommon, affecting 1% or fewer of women with TSC. However, recent prospective and retrospective studies have found cystic pulmonary abnormalities in as many as 40% of women with TSC. Women with large AMLs (>4-6 cm in diameter) appear to be at higher risk.
Symptomatic pulmonary disease in men, and even in children, with TSC has been reported anecdotally. The true incidence of pulmonary abnormalities in these populations is not known, although it is certainly less than in adult women.
Three forms have been described: multifocal micronodular pneumocyte hyperplasia (MMPH), pulmonary cysts, and LAM.
MMPH consists of hyperplasia of type II pneumocytes, seen as nodular densities on chest CT scan. This condition occurs with equal frequency in men and women with TSC and does not produce clinical symptoms.
Pulmonary cysts may be single or multiple (see image below). Solitary lesions may remain clinically silent or rupture, with resultant pneumothorax producing acute dyspnea and hemoptysis. Multiple cystic lesions may result in respiratory insufficiency or even pulmonary hypertension with cor pulmonale (usually in the case of LAM).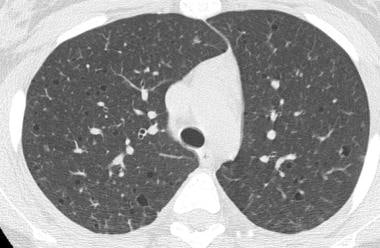 Multifocal pulmonary cysts characteristic of lymphangiomyomatosis. As many as 40% of women with tuberous sclerosis have pulmonary cysts on chest CT scan.
LAM is rather more insidious: interstitial fibrosing alveolitis develops with progressive restrictive lung disease. It also occurs, although less frequently, in women who do not have TSC (incidence of sporadic LAM, approximately 1 per 100,000). About 60% of women with sporadic LAM also have renal AMLs, but not other characteristics of TSC (see image below). Smooth muscle cells undergo abnormal proliferation with secondary compromise of bronchioles, venules, and lymphatic structures. Slowly, normal pulmonary elasticity is lost, with resultant decrease in vital capacity and increase in residual volume. Pulmonary hypertension, cor pulmonale, and worsening hypoxia/hypercapnia eventually supervene. When LAM is suspected clinically, high-resolution CT of the chest is the most sensitive diagnostic modality.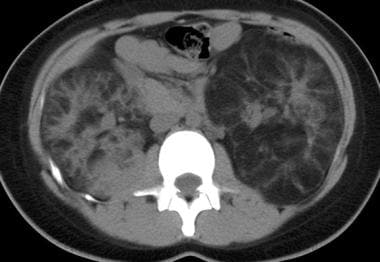 Massive bilateral angiomyolipomas in a woman with tuberous sclerosis. She also has lymphangiomyomatosis.
Owing to the overwhelming predominance of LAM in women, some believe that estrogen accelerates the progression of the condition. Some patients have been treated with hormonal therapy (ie, progesterone) to counteract the estrogen effect, although this has not been proven conclusively to be of benefit. Bronchodilators are helpful in selected cases.
LAM is inexorably progressive and ultimately results in death unless lung transplantation is undertaken. [12] Interestingly, LAM occasionally has recurred in transplanted lungs. This raised the possibility that, rather than being a primary pulmonary disorder, LAM is caused by a circulating factor, or perhaps metastatic cells. Henske et al demonstrated that in fact metastatic cells from AMLs or leiomyomas are present in the lungs of women with LAM, regardless of whether they have TSC, and almost certainly cause the disorder (see image below). These cells frequently have abnormalities of either TSC1 or TSC2, which produce the characteristic smooth muscle hypertrophy and destruction of normal lung.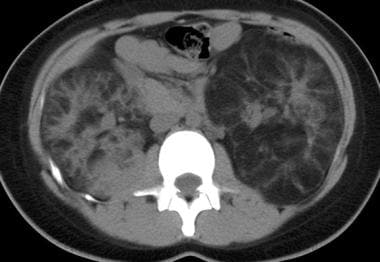 Massive bilateral angiomyolipomas in a woman with tuberous sclerosis. She also has lymphangiomyomatosis.
---
Did this answer your question?
Additional feedback? (Optional)
Thank you for your feedback!