Answer
Cardiac involvement is usually maximal at birth or early in life; it may be the presenting sign of TSC, particularly in early infancy. Fifty to sixty percent of individuals with TSC have evidence of cardiac disease, mostly rhabdomyomas. Conversely, anywhere from 50-85% of infants with isolated cardiac rhabdomyomas are said to later show definite evidence of TSC.
Rhabdomyomas are benign tumors that may be focal or diffuse and infiltrating in character. They produce symptoms primarily through outflow tract obstruction or by interfering with valvular function (see images below). Diffuse rhabdomyomas also may result in decreased contractility and cardiomyopathy (see image below). In such cases surgical treatment, inotropic support, and related measures may be necessary.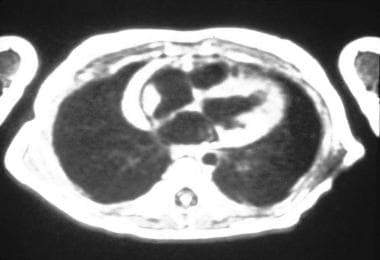 Atrial rhabdomyoma as seen on cardiac CT scan in a patient with tuberous sclerosis.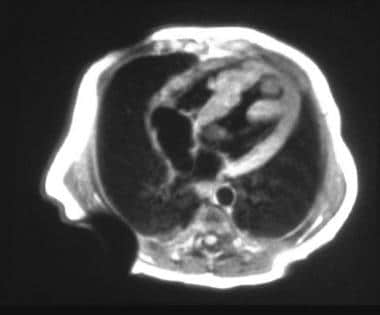 Nonobstructive ventricular rhabdomyomas in a patient with tuberous sclerosis.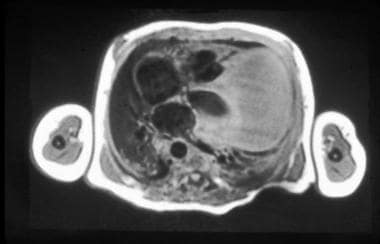 Ventricular rhabdomyomas may diffusely infiltrate the myocardium, as in this patient with tuberous sclerosis. The patient presented with cardiac failure and hydrops at birth. After a period of intensive supportive care and inotropic therapy, she now has essentially normal cardiac function and is on no medications.
Rhabdomyomas develop during intrauterine life (usually between weeks 22 and 26 of gestation) and can result in nonimmune hydrops fetalis and fetal death. The majority of cases, however, are clinically asymptomatic.
The lesions typically undergo spontaneous regression in the first few years of life, although residual areas of histologically abnormal myocardium may persist. These lesions can involve the cardiac conducting system and thereby may predispose an affected individual to ventricular pre-excitation or other arrhythmias not only in infancy, but also later in life. Such residual areas can be inapparent on echocardiography, yet still produce arrhythmia. This may have an underappreciated significance, as persons with TSC often require antiepileptic or psychotropic drugs that also may affect cardiac conduction.
---
Did this answer your question?
Additional feedback? (Optional)
Thank you for your feedback!